The Truth About Executive Job Search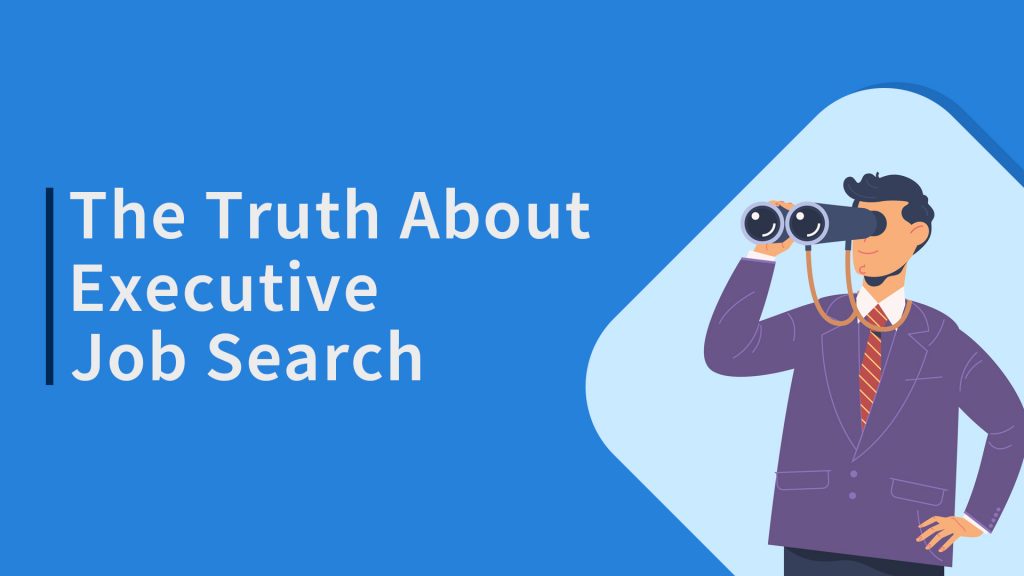 Starting your search for a Finance Executive job? Whether it's your first time on the hunt for an executive-level position, or it's been a while since your last search, there are a few things you should know about the process.
Five Executive Job Search Reality Checks
Source: forbes.com 
Many executives enter their job search with very little context around what to expect during the process. This may be the first time they ever had to actively search for a new role or their industry may have been in a very different place the last time they had to look for a new job.
By understanding the realities of a job search, executives can be better prepared for what's ahead and more motivated to weather the ups and downs of the typical search campaign. After working with thousands of job seekers, I have seen several patterns emerge that are common to most searches. Here are five things to consider.
1. Expect to spend on average nine to 12 months in an executive search.
Knowing the average timeframe it takes can help you plan accordingly, but the amount of time it takes an executive to land that next job depends on several factors, including the relevance of their skills in the market, how tied they are to an industry or geography, and how strong their network is at the beginning of their search.
The more options you have for people to reach out to, and new geographies or industries to explore, the faster you will be able to make progress on your search. If your network is weak, you will need to spend time growing and nurturing it before you can authentically ask for introductions to influencers and decision makers.
2. Realize you are not your network's first priority.
There will be people who don't return your calls. And those who say they will do something for you or follow up on something and don't. Many are well-intentioned but have multiple factors competing for their attention. Be understanding and flexible and try your best to work around your contact's schedules. If an in-person meeting isn't an option, graciously accept a phone call or email conversation.
3. Commit to spending just as much time working on your search as you do working at your current job.
A job search is a full-time job. Expect to spend 35 to 40 hours a week on your search. Your days should be filled with reaching out to contacts, scheduling and following up on meetings, attending networking events, researching companies that may be a good fit, reaching out to recruiters, and developing your marketing collateral — including your resume and online presence. Minimal time should be spent on less effective methods of the search, such as posting on job boards.
4. Recognize your resume isn't a silver bullet.
Your resume is an important marketing tool, but having a resume doesn't constitute a job search strategy. Whenever possible, you want your resume to anchor a conversation, not be the sole introduction to your candidacy on some random job board or company website. Having a great resume can facilitate a great conversation with your network or a decision maker, but people hire people, not resumes, so try to have a conversation with a human being rather than uploading your resume to an applicant tracking system.
5. Understand that landing the job isn't the only measurement of success.
It's unrealistic and self-sabotaging to only mark your progress in a job search when you land the job. While certainly that's the ultimate goal, pay attention to the important steps that lead up to this final goal. Measure success by the number of meetings you are able to secure and how many of those meetings lead to new introductions and possibly new opportunities.
A job search is a marathon, not a sprint. No one gets ready for a marathon overnight. It takes time, planning, commitment and sacrifice. So does a job search. Be patient and set attainable interim goals for your search that keep you focused, motivated and on track, and you will make it to the finish line.
Findings A Finance Executive Job
As #3 on the list points out, a job search is a commitment; you can't sit back and wait. Successful executives are driven and focused, so use those characteristics in your job search by taking a proactive approach. For starters, set yourself up as a featured applicant for executive jobs.
Growth companies who are serious about finding a Finance Executive are using Executive Search to mitigate their hiring risk. Technology is being used to predict hiring success based on motivations, skills and more.
We specialize in connecting growth companies with the best candidates for their finance roles. Discover the benefits of becoming a featured applicant for executive search positions.
__________
Clarity is a recruitment agency specializing in the placement of designated Accountants and Finance professionals in the GTA and Vancouver. Our mission is to improve decision-making in hiring by investing in behavioural science and hiring technology. We specialize in Project & Interim Resourcing, Permanent Search and Executive Search and recruit Finance and Accounting Executives for growth companies. We are a tenured team of successful recruiters who have worked in the major industries across Toronto and Vancouver. info@findingclarity.ca.
Follow us on LinkedIn for updates, job postings and more.