[vc_row row_height_percent="0″ overlay_alpha="50″ gutter_size="3″ column_width_percent="100″ shift_y="0″ z_index="0″ enable_top_divider="default" top_divider="step" shape_top_h_use_pixel="true" shape_top_height_percent="55″ shape_top_color="color-uiui" shape_top_opacity="100″ shape_top_index="0″][vc_column width="1/6″][/vc_column][vc_column width="4/6″][vc_single_image media="47411″ media_width_percent="100″ media_ratio="sixteen-nine" alignment="center" shape="img-round" radius="std"][/vc_column][vc_column width="1/6″][/vc_column][/vc_row][vc_row row_height_percent="0″ override_padding="yes" h_padding="2″ top_padding="1″ bottom_padding="0″ overlay_alpha="50″ gutter_size="3″ column_width_percent="100″ shift_y="0″ z_index="0″ top_divider="step"][vc_column width="1/6″][/vc_column][vc_column column_width_percent="100″ align_horizontal="align_center" gutter_size="3″ override_padding="yes" column_padding="1″ overlay_alpha="50″ shift_x="0″ shift_y="0″ shift_y_down="0″ z_index="0″ medium_width="0″ mobile_width="0″ width="4/6″][/vc_column][vc_column width="1/6″][/vc_column][/vc_row][vc_row row_height_percent="0″ overlay_alpha="50″ gutter_size="3″ column_width_percent="100″ shift_y="0″ z_index="0″ top_divider="step"][vc_column width="1/6″][/vc_column][vc_column width="4/6″][vc_column_text]
Accounting & Finance Team Org Charts For Every Stage of Growth
What should your finance team org chart look like? As companies scale, most focus on recruiting sales, marketing, and product teams to drive growth. The finance and accounting team stays lean, staffed by generalists (or even a generalist or outsourced bookkeeper) to manage transactions and basic accounting needs.
But the finance team can and should be a driving force for growth (Read: How Finance Fuels Growth), unlocking opportunities across the organization. Effective finance and accounting teams should be connecting data across the business and doing proactive planning and analysis to lead strategy.
How do you strike the right balance between lean structure while ensuring the right expertise to enable growth? The trick is to recruit the right balance of full-time and fractional (or part-time) finance consultants to cover reporting, planning and strategic projects.
What does the right team look like for your organization? Based on Clarity's experience helping hundreds of fast-growing scale-ups build finance and accounting teams, we've put together sample finance team org charts templates to guide your finance team's growth.
Are you working with the right size team? Get our finance team org chart templates now.
How should you grow your
finance team?
These finance team org charts templates show examples of Finance and Accounting
teams at:
[uncode_list icon="fa fa-check" icon_color="color-757736″]
>$10 million
$10-50 million
$50-100 million
$100-250 million
$250 million+
[/uncode_list]
Here are the basics of how to recruit the right size finance and accounting team to fuel growth:
Early Stage Startup
Seed Funding OR revenue = $10 Million
Recommended Team size 1-3
Most startups recruit a CFO when they reach $5M+ in revenue. If you haven't hired one at that point, prospective investors are likely to demand it. If you're sub-$5M but are working towards Series A financing, many companies function well with a Controller or VP of Finance to manage reporting, while bringing oversight and credibility to your numbers.
At this stage of early growth, the function leader should be responsible for financial modelling, growth planning and fundraising. They may also oversee a small but nimble team of one to two members, or contractors to manage reporting, AR/AP, and financial planning.
Many organizations of this size also hire a fractional CFO or interim finance leader to act as a guide or mentor to a capable but less experienced finance leader. A fractional CFO can help navigate challenges while identifying opportunities. These seasoned finance leaders should also help assess people, processes and systems and help the Director of Finance maintain focus on growth.
Mid-Stage Scale-Up
Series A/B OR revenue = $10-100 Million
Recommended Team size 3-7
In this mid-growth stage, teams are often led by a CFO or a VP of finance whose main focus becomes growth projects. We also see many scale-up clients begin hiring more specialized finance professionals to manage regular reporting cycles and transactions, as well as recruiting financial planning expertise to support business enablement and growth.
With $20+ million in revenue or a significant funding round, fast-growing scale-ups also often rely on external consultants and fractional finance specialists to help support strategic initiatives. This typically includes bringing in a systems consultant or ERP specialists, as well as consultants that can assess for IPO readiness and SOX or internal controls compliance.
Growth Scale-Up
Series C+ OR revenue = $100-250 Million
Recommended Team size 8-10
By this stage, most scale-ups have a fairly seasoned CFO in place or groomed a rockstar junior leader into the C-Suite role. To support continued growth, the team will have to continue expanding its reporting and transaction capabilities and may also need to bring in an expert to think about M&A planning and integration as the organization looks to grow through acquisitions. Most organizations of this size have already put quite a bit of work into IPO-preparedness, and continue to work with an external consultant for ongoing support.
Enterprise
OR revenue = $250 Million+
Recommended Team size 11+
An enterprise business that's reached maturity or gone public will likely have a well-functioning finance and accounting team of experts providing strategic leadership, managing reporting and transactions, FP&A, and enabling growth projects. This finance and accounting team's org chart will have layers with multiple tiers for various roles like financial analysts, FP&A managers, accounting managers, treasury, tax specialists and other finance leaders to ensure sustainable growth.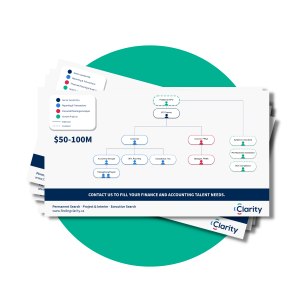 Ready to get your Finance and Accounting Team Org Charts templates?[/vc_column_text][vc_raw_html]JTNDJTIxLS0lNUJpZiUyMGx0ZSUyMElFJTIwOCU1RCUzRSUwQSUzQ3NjcmlwdCUyMGNoYXJzZXQlM0QlMjJ1dGYtOCUyMiUyMHR5cGUlM0QlMjJ0ZXh0JTJGamF2YXNjcmlwdCUyMiUyMHNyYyUzRCUyMiUyRiUyRmpzLmhzZm9ybXMubmV0JTJGZm9ybXMlMkZ2Mi1sZWdhY3kuanMlMjIlM0UlM0MlMkZzY3JpcHQlM0UlMEElM0MlMjElNUJlbmRpZiU1RC0tJTNFJTBBJTNDc2NyaXB0JTIwY2hhcnNldCUzRCUyMnV0Zi04JTIyJTIwdHlwZSUzRCUyMnRleHQlMkZqYXZhc2NyaXB0JTIyJTIwc3JjJTNEJTIyJTJGJTJGanMuaHNmb3Jtcy5uZXQlMkZmb3JtcyUyRnYyLmpzJTIyJTNFJTNDJTJGc2NyaXB0JTNFJTBBJTNDc2NyaXB0JTNFJTBBJTIwJTIwaGJzcHQuZm9ybXMuY3JlYXRlJTI4JTdCJTBBJTA5cmVnaW9uJTNBJTIwJTIybmExJTIyJTJDJTBBJTA5cG9ydGFsSWQlM0ElMjAlMjIyMTAyMzk5MiUyMiUyQyUwQSUwOWZvcm1JZCUzQSUyMCUyMmU4YzA0NzUyLTI4NGItNDExZC04MjVhLWYwNjgwZjUzMDM5MCUyMiUwQSU3RCUyOSUzQiUwQSUzQyUyRnNjcmlwdCUzRQ==[/vc_raw_html][/vc_column][vc_column width="1/6″][/vc_column][/vc_row][vc_row][vc_column][vc_column_text][/vc_column_text][/vc_column][/vc_row]