Finding a Fearless Finance Leader | Executive Search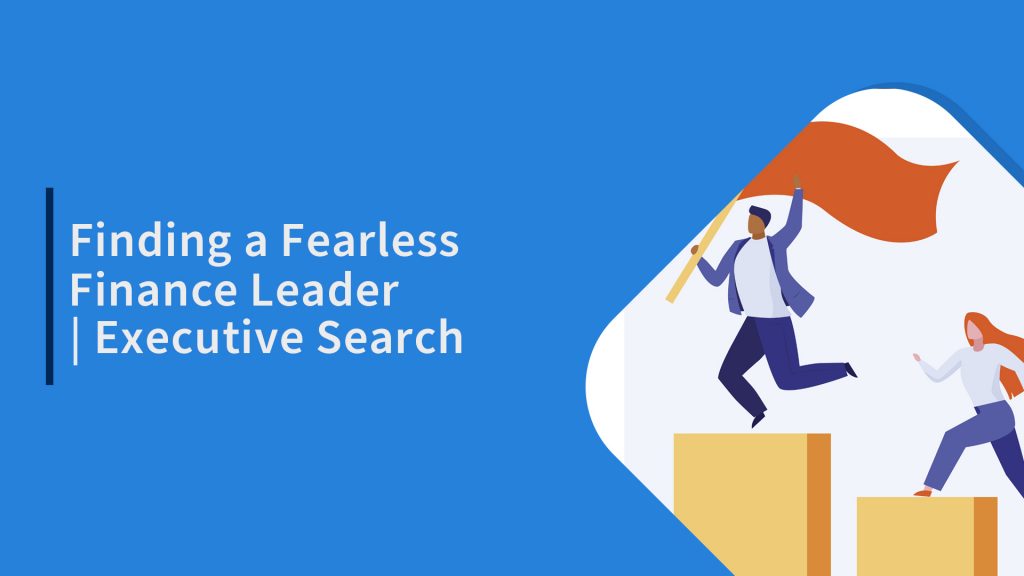 In our executive search blog, we've talked about how the role of a finance executive has evolved, and what today's CFO is faced with; protecting vital assets and shaping a strategic direction so the company is set-up for long-term success. Not only are companies seeing a new type of CFO, but they are also faced with a different finance department as a whole as the talent that makes up a finance department is shifting.
Bridging the Finance Talent Gap
Source: deloitte.wsj.com
Many finance leaders are already preparing for a future where "talent" appears in multiple forms. In Deloitte's most recent CFO Signals™ survey, for example, 73 percent of respondents said that this year they will implement technology to replace humans in their workforce—up from 58 percent a year ago. And in the third-quarter 2018 CFO Signals survey, CFOs said they foresee increased utilization of outsourced, contingent, or gig workers, and higher use of shared services or offshore personnel over the next three years.
During this shift, CFOs will get a clearer view of the gap between the workforce they now employ and the one they will need. Technologies ranging from artificial intelligence (AI) to robotic process automation (RPA), and analytics tools will surely streamline finance processes, but they will heighten, not abolish the need for skilled employees. While automation is likely to relieve some workers of repetitive tasks, it will also transform many existing positions, requiring additional strategic and analytical skills.
The transition is going to happen fast. In the third quarter 2018 CFO Signals survey, almost two-thirds of respondents (63 percent) said that the time allocation of the finance workforce in three years will likely shift toward analysis, prediction, and decision support. Moreover, 68 percent ranked analytical skills, digital technologies/automation, and core business skills as the most important skills an organization needs to develop to deliver finance effectively in three years.
The path to developing and delivering those skills starts with a series of questions—and actions—that can be used to formulate a road map. Specifically:
1. How does your future digital strategy address talent?
To prepare for what's ahead, CFOs need to map the work outcomes they expect finance to deliver and determine which outcomes are best delivered by smart machines, where humans and machines should work together, and where old-fashioned humans are best suited to deliver. When it comes to applying critical thinking, for example, humans retain an edge. But by pairing human inventiveness, creativity, empathy, and influencing skills with cognitive technologies, companies have the potential to elevate their collective problem-solving capabilities.
As part of the exercise, CFOs also need to determine the skills necessary for the roles to be filled by humans, assess gaps in their current workforce, and develop a plan to either build, buy, or borrow those skills (training, hiring full-time, or using gig workers/contractors).
2. How does the future of work change organization design and behavior?
The onslaught of new technologies will likely expand CFOs' options for reshaping finance for the digital era. The emerging tools can also create the opportunity to partner with human resources (HR) to determine exactly what form the organization takes. For example, using data analytics, CFOs can collaborate with HR to gain insight into workforce trends, from pinpointing turnover and attrition to identifying workers who need additional training.
CFOs may end up presiding over an increasingly divided kingdom: one group composed of more traditionally skilled employees, focused on incorporating tools such as RPA and AI into accounting and reporting processes; the other will provide data analysis, identifying trends and patterns so they can serve as strategic advisors.
3. How does leadership development need to change?
Enabling existing employees to make the transition to taking a more analytical approach to finance—or recruiting those who already possess such skills—may constitute a leadership challenge for CFOs. As they reinvent their workforces, finance executives will need employees who display agility, a desire to learn, and a capacity for maintaining productivity in a changing environment.
<h2>How Executive Search Can Help Build A Solid Finance Department</h2>
The key to a solid finance department is a fearless leader. A modern CFO with the skills to strategically lead talent and leverage technology is a crucial asset in any growth company. Armed with insights around behaviour science in hiring and our proprietary technology, Clarity Executive Search has placed Finance Executives in a number of high-growth companies.
Find a CFO for your next stage of growth.
__________
Clarity is a recruitment agency specializing in the placement of designated Accountants and Finance professionals in the GTA and Vancouver. Our mission is to improve decision-making in hiring by investing in behavioural science and hiring technology. We specialize in Project & Interim Resourcing, Permanent Search and Executive Search and recruit Finance and Accounting Executives for growth companies. We are a tenured team of successful recruiters who have worked in the major industries across Toronto and Vancouver. info@findingclarity.ca.
Follow us on LinkedIn for updates, job postings and more.