Talent Recruiting Tips for Growing Tech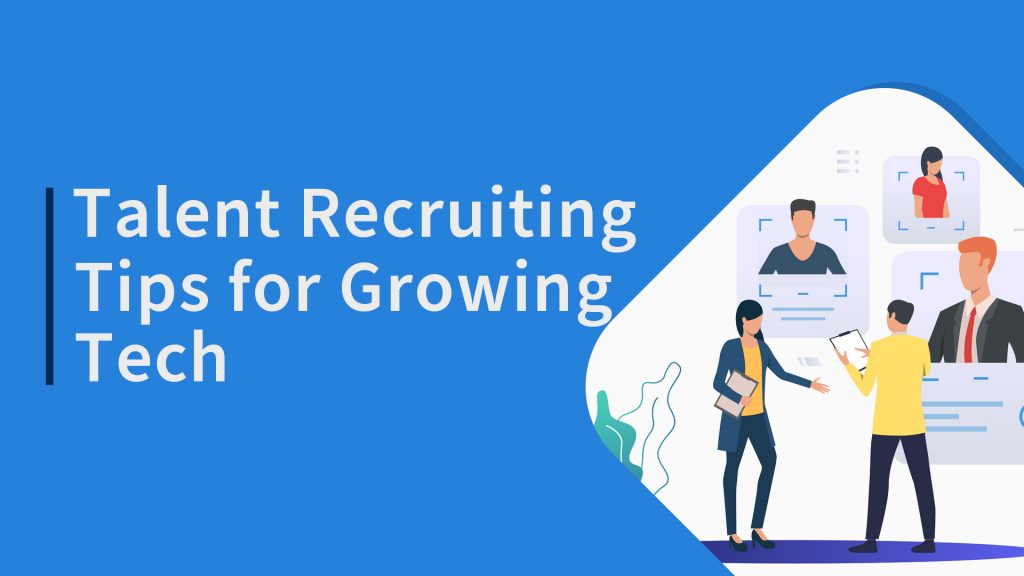 Tech companies are being faced with a challenge that could impact company growth potential: finding talent. In order for a tech company to be positioned for growth, it needs a solid workforce foundation. Recruiting skilled developers is a focus for many companies right now.
A talented workforce also needs strategic leadership to drive company growth. Tech company executives also need to look at how they can attract and retain a strong executive team to lead the company. 
Executive search is the most strategic approach to recruiting strong leadership for a growth company. When it comes to finding developers, these three strategies can be helpful.
Today's IT Executive Needs a Master's In Searching for Talent
Source: forbes.com
It's no surprise that the talent search is challenging right now, and as we head into 2020, IT leaders across the country are feeling the frustration. There are a number of contributing factors, including a hot economy, a shortage of skilled IT employees, increasing costs of competing for and retaining talent, and the mounting gap between traditional higher education and modern technology practices.
Given the current landscape, tech leaders within small and midsize companies — especially those trying to compete with more well-known and resource-heavy enterprises — must now be fully immersed in the talent search process.
With that in mind, where do you look? The reality is that top talent is no longer only coming from brick-and-mortar four-year institutions; rather, tech-savvy individuals are also honing their skills at technology schools, coding academies, apprentice experiences and even online self-learning through the likes of YouTube tutorials and free webinars.
In fact, according to HackerRank, nearly one-third of all developers say they're completely self-taught. My own brother has served as the senior architect for a Fortune 50 tech firm and never earned a single degree.
To stay immersed in the search process and keep the talent pipeline strong, here are three strategies IT leaders should consider:
1. Invest In K-12 Partnerships
Identifying talent must start early on, and talent isn't only in the places we typically think of first. IT leaders should focus on shepherding future talent before they even begin college or technical programs. Investing in young people while they're in elementary and high school can identify potential candidates who will excel in technology and give students a chance to explore a field they might not have considered.
Last year, our company partnered with a local school district and its work-based learning program to hire two interns for the 2018-19 school year. Not only did these high school interns bring us value with their work, but we were able to connect them with our company and culture in hopes they'll want to join us upon graduation.
Another example here in Indianapolis that is applicable to tech companies throughout the U.S. is the STARTedUp Foundation, which immerses students into entrepreneurial thinking and brings their ideas to real-life businesses. It helps kids build skills that will later be invaluable to future employers while also giving them a chance to gain firsthand experience at a young age.
Identifying programs or organizations like this one provide young talent with tangible experience that not only helps develop their skills, but it also gives IT leaders an opportunity to connect with budding talent and find strong candidates for their company.
Alternative forms of experience and education are also growing avenues, and in my experience, they have helped discover some of the strongest talent.
Apprentice University, for example, provides alternative educational avenues for the next generation through mentor-led apprenticeships and learning cohorts. Students are given networking and learning opportunities that help them bring valuable talent to future employers. As a tech leader, building partnerships with local or national organizations that shape talent at a young age and through hands-on experiences can create a strong talent pipeline for your organization.
2. Pool Resources With Industry Organizations
One of the best places to get involved with the talent search is by looking within the industry and taking advantage of communal recruitment efforts. There are hundreds of industry organizations in the technology space; often, they have dedicated resources for identifying and recruiting talent — and they might even be right in your backyard.
As an example, TechPoint in Indianapolis offers an Xtern Program that gives students the chance to work alongside industry leaders at growing tech companies in the city while enjoying the benefits of living in a community with hundreds of other like-minded interns. TechPoint visits campuses throughout the region to recruit next-generation talent, and the organization connects students to leaders through networking events so they learn how local companies contribute to the tech ecosystem.
While the students are learning and honing their talent, technology companies are getting access to a network of candidates from across the country. This type of program would be impossible for a single company to host, but when resources are pooled by the entire tech community, it creates an experience that is invaluable to the candidate and to their future employers.
3. Prioritize Intentional Networking And Outsourcing
Industry networking has always been an important strategy, but in today's market, it's no longer just for the benefit of sales and marketing. IT leaders need to engage in networking for the sake of talent recruitment alone. Identify one or two tech events per year, and commit to attending for the sole purpose of getting to know the landscape and offering value to others.
When is the last time you presented at a conference or hosted a networking event at your office without focusing on your brand's products or services? Believe me, your attendees will appreciate it and remember the event. Given the fact that there are several huge tech companies where the average employee stays for less than three years, don't be surprised if some of those attendees come knocking on your door.
Often, as a small or midsized company, you don't have the internal resources to accomplish all of your projects. Thus, you are forced to outsource much of the work. View this not as a weakness, but instead as a great opportunity to locate, vet and recruit your future talent. Be intentional with your outsourcing efforts, and hire freelancers or contractors where you anticipate future need. Give them an opportunity to experience how awesome it would be to join your team full time.
In today's industry landscape, technology leaders must be involved in recruitment efforts. We need to cast a wider net to identify talent from nontraditional education paths and look within our own communities to invest in key partnerships, connect with relevant industry organizations and prioritize networking or outsourcing. By exploring these strategies and staying immersed in talent search efforts, IT leaders can attract promising talent.
A New Approach To Executive Recruiting
The strategies above show that there are non-traditional approaches that can be taken when searching for developers. This is a theme with tech companies; paving their own road and finding new, innovative ways to operate their business.
Looking for company executives should be no different. With technology driving their companies and being their product or service, why not use technology to build a powerful leadership team.
Luma-Fi is our proprietary technology for executive search. Using insights around behaviour science in hiring and our technology, we can help growing tech companies find a finance executive to play a modern role and help them go head-to-head with the competition.
__________
Clarity is a recruitment agency specializing in the placement of designated Accountants and Finance professionals in the GTA and Vancouver. Our mission is to improve decision-making in hiring by investing in behavioural science and hiring technology. We specialize in Project & Interim Resourcing, Permanent Search and Executive Search and recruit Finance and Accounting Executives for growth companies. We are a tenured team of successful recruiters who have worked in the major industries across Toronto and Vancouver. info@findingclarity.ca.
Follow us on LinkedIn for updates, job postings and more.