Using Data to Find a Qualified Candidate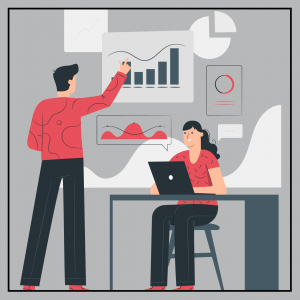 Using Data To Find A Qualified Candidate
As a recruiter, you know how important it is to find the right candidate for the right role. In the financial industry, a poor fit can have big consequences for your clients and your reputation. Many successful recruiters are using data to gain an extra edge when it comes to finding qualified candidates to fill key roles in the finance industry. Keep reading to find out how you can too.
What Is Data-driven Recruitment?
Data-driven recruitment refers to using tangible stats and information to optimize your decisions when it comes to finding high-quality candidates. When recruitment agencies rely on data, it eliminates many of the pitfalls that can come about as a result of going purely on gut feeling or manual screening. It also removes any bias that may have been present that influenced your decision-making.
Some of the data points that are important for you to collect and use include:
Percentage of good hires – what percentage of your new hires have become top performers?

Turnover rate – what percentage of new hires end up quitting within a few months of starting?

The hiring source – where the new employees applied from.

Time to productivity – how long does it take for new hires to start performing as expected.
Once you compare these different metrics, you'll likely notice trends that emerge that can help guide you in the process for better results.
Benefits of Using Data for Recruiting
Along with finding quality candidates for specific roles, some of the benefits of using data to find qualified candidates include:
Reducing the overall hiring time

Allocating your hiring budget wisely

Improving efficiency and productivity throughout the process

Discovering hiring issues that can be improved

Determining how many applicants you need to make one good hire

Enhanced recruitment forecasting

Improved candidate experience
How to Incorporate Data in the Hiring Process
If you're ready to make the shift toward more data-driven recruiting for accounting and finance positions, it starts by tracking the right hiring metrics. Some of the ones that will help you make the most of modern technology are:
Quality of hire – the value a new hire brings to the company

Time to hire – how your average time measures up against competitors

Source of hire – the various recruiting channels or sources that produced specific    percentages of new hires

Cost per hire – internal recruiting costs + external recruiting costs divided by the total number of hires

Job offer acceptance rates – the percentage of candidates that accepted your job offer

Candidate experience scores – the candidate's overall impression of your recruitment process from awareness to job offer or rejection
Taking Action Is Key
Not every company in the accounting and finance industry gives the same consideration to every type of data that's available. Take the time to meet with senior managers and decision-makers and find out what kinds of issues or bottlenecks they typically see when hiring and what type of data is important to them. Then, take action on the specific data points to ensure the process goes as smoothly and efficiently as possible and you end up with candidates that can really make a difference.
If you're looking to experience the importance of data when hiring candidates, then apply to work at Clarity today!
__________
Clarity is a recruitment agency specializing in the placement of designated Accountants and Finance professionals in the GTA and Vancouver. Our mission is to improve decision-making in hiring by investing in behavioural science and hiring technology. We specialize in Project & Interim Resourcing, Permanent Search, Executive Search and recruit Finance and Accounting Executives for growth companies. We are a tenured team of successful recruiters who have worked in the major industries across Toronto and Vancouver. info@findingclarity.ca.