The Role of the CFO Has Evolved & So Has the Executive Search Process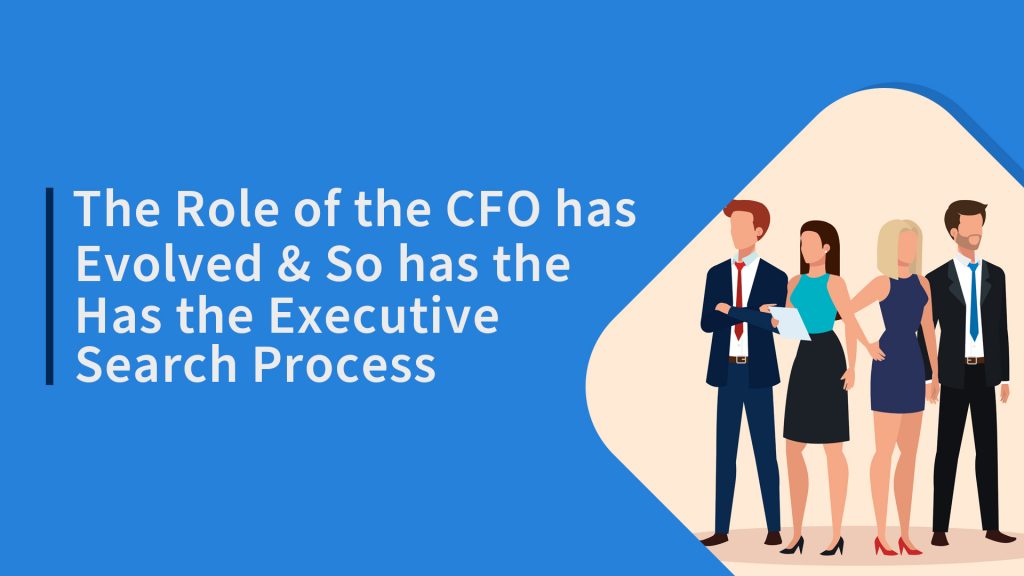 The role of the Chief Financial Officer (CFO) is a pivotal role in a growth company, and it's evolved beyond straight finance function. Clarity Executive Search specializes in recruiting finance executives and is used to find candidates with specific skills for unique executive roles. We say "unique" because every growth company has a particular situation and a different set of needs.
However, what they do have in common is that the role they are looking to fill is not the traditional CFO that existed twenty years ago (and even two years ago, as you'll learn as you keep reading). Today's CFO drives transformation, plays many roles, and takes a proactive approach to the job.
This transcript of a recent podcast dives into the balancing act today's CFOs play between their traditional responsibilities and the new areas a modern CFO drives.
The evolution of the CFO
Source: mckinsey.com
Sean Brown: If you wanted evidence that the only constant in life is change, then look no further than the evolution of the CFO role. In addition to traditional CFO responsibilities, results from a recent McKinsey survey suggest that the number of functions reporting to CFOs is on the rise. Also increasing is the share of CFOs saying they oversee their companies' digital activities and resolve issues outside the finance function. How can CFOs harness their increasing responsibilities and traditional finance expertise to drive the C-suite agenda and lead substantive change for their companies?
Joining us today to answer that question are Ankur Agrawal and Priyanka Prakash. Ankur is a partner in our New York office and one of the leaders of the Healthcare Systems & Services Practice. Priyanka is a consultant also based in New York. She is a chartered accountant by training and drives our research on the evolving role of finance and the CFO. Ankur, Priyanka, thank you so much for joining us today.
Let's start with you, Ankur. Tell us about your article, which is based on a recent survey. What did you learn?
Ankur Agrawal: We look at the CFO role every two years as part of our ongoing research because the CFO is such a pivotal role in driving change at companies. We surveyed 400 respondents in April 2018, and we subsequently selected a few respondents for interviews to get some qualitative input as well. Within the 400 respondents, 212 of those were CFOs, and then the remainder were C-level executives and finance executives who were not CFOs. We had a healthy mix of CFOs and finance executives versus nonfinance executives. The reason was we wanted to compare and contrast what CFOs are saying versus what the business leaders are saying to get a full 360-degree view of CFOs.
The insights out of this survey were many. First and foremost, the pace of change in the CFO role itself is shockingly fast. If we compare the results from two years ago, the gamut of roles that reported into the CFO role has dramatically increased. On average, approximately six discrete roles are reporting to the CFO today. Those roles range from procurement to investor relations, which, in some companies, tend to be very finance specific. Two years ago, that average was around four. You can see the pace of change.
The second interesting insight out of this survey when compared to the last survey is the cross-functional nature of the role, which is driving transformations and playing a more proactive role in influencing change in the company. The soft side of the CFO leadership comes out really strongly, and CFOs are becoming more like generalist C-suite leaders. They should be. They, obviously, are playing that role, but it is becoming very clear that that's what the business leaders expect them to do.
And then two more insights that are not counterintuitive, per se, but the pace of change is remarkable. One is this need to lead on driving long-term performance versus short-term performance. The last couple of years have been very active times for activist investors. There are lots of very public activist campaigns. We clearly see in the data that CFOs are expected to drive long-term performance and be the stewards of the resources of the company. That data is very clear.
And then, lastly, the pace of change of technology and how it's influencing the CFO role: more than half of the CFO functions or finance functions are at the forefront of digitization, whether it is automation, analytics, robotic processes, or data visualization. More than half have touched these technologies, which is remarkable. And then many more are considering the technological evolution of the function.
Sean Brown: In your survey, did you touch on planning for the long term versus the short term?
Ankur Agrawal: Our survey suggests, and lot of the business leaders suggest, that there is an imperative for the CFO to be the steward of the long term. And there is this crying need for the finance function to lead the charge to take the long-term view in the enterprise. What does that mean? I think it's hard to do—very, very hard to do—because the board, the investors, everybody's looking for the short-term performance. But it puts even more responsibility on the finance function in defining and telling the story of how value is being created in the enterprise over the long term. And those CFOs and finance executives who are able to tell that story and have proof points along the way, I think those are the more successful finance functions. And that was clearly what our survey highlighted.
What it also means is the finance functions have to focus and put in place KPIs [key performance indicators] and metrics that talk about the long-term value creation. And it is a theme that has been picked up, in the recent past, by the activists who have really taken some companies to task on not only falling short on short-term expectations but also not having a clear view and road map for long-term value creation. It is one of the imperatives for the CFO of the future: to be the value architect for the long term. It's one of the very important aspects of how CFOs will be measured in the future.
Use Executive Search to Find Your Next CFO
As you've just learned, today's CFO is immersed in digital technology and focused on transformation and long-term performance. Finding the right candidate to fill the multi-dimensional CFO role is not the same process it used to be.
Hiring your next CFO should not be taken lightly. For growing companies, finding the right finance executive can be a high-risk process, but with Clarity Executive Search you can get qualified candidates that are backed up by Lumi-Fi, our proprietary technology as well as insights around behaviour science in hiring.
Discover how Clarity Executive Search can help you find a finance executive.
__________
Clarity is a recruitment agency specializing in the placement of designated Accountants and Finance professionals in the GTA and Vancouver. Our mission is to improve decision-making in hiring by investing in behavioural science and hiring technology. We specialize in Project & Interim Resourcing, Permanent Search and Executive Search and recruit Finance and Accounting Executives for growth companies. We are a tenured team of successful recruiters who have worked in the major industries across Toronto and Vancouver. info@findingclarity.ca.
Follow us on LinkedIn for updates, job postings and more.