The Evolution of Executive Search Technology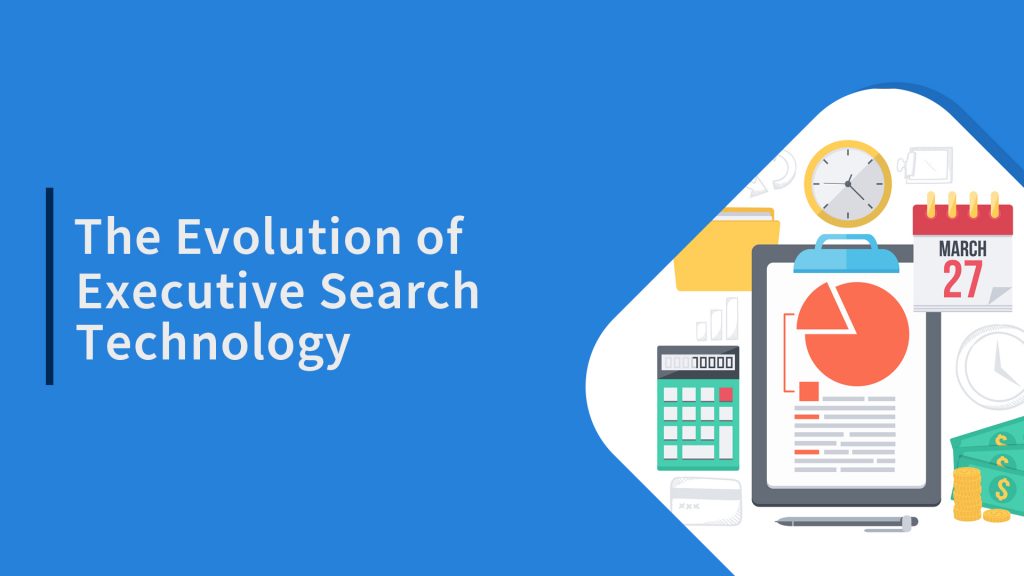 The role of a financial executive has shifted over the years, and today, the modern CFO wears many hats. Just as the role has evolved, the way companies recruit financial executives has evolved. 
Even the way executive searches are conducted has seen a lot of growth over the years. C-level executives of growth companies are consulting executive search firms with new executive search technology to reduce risk and to find a qualified finance leader to drive their company.
The Evolution of Executive Search
Source: forbes.com
How has the executive search market evolved in the past decade?
Disruption within the digital economy has led to the creation of leadership roles within various sectors. However, these roles did not exist before so you need a good tool to search for talent with a complex set of skills and competencies. For example, a chief data officer or chief IoT position requires a versatile background in enterprise data architecture, data quality and governance, business strategy and business regulation compliance. More recruiters are depending on their technology and historical data when looking for candidates to fit these new roles that require such an intricate set of skills.
Joe Chappell, managing director, global marketing and communications at Association of Executive Search and Leadership Consultants, adds, "Technology has impacted every aspect of search especially in finding top talent and assessment. Current assessment techniques are more sophisticated with a suite of technology-based tools combined with in-depth interviewing, role-playing, case studies and situational responses evaluated by seasoned experts."
He continues: "Clients are now looking to search firms as strategic advisors who provide counsel on a broader basis, including assessing leadership teams, advising boards on their effectiveness, succession planning and culture shaping. The profession, just as the industries it serves, now requires much more agility. In a fast-paced, ever-shifting business climate accelerated by technology, we have to be at the forefront to best serve our clients with expert advice and insights."
In addition, new regulations, such as GDPR and U.S. compensation history laws, have imposed steep penalties that could devastate your recruitment business. You can learn more about how these laws could affect your business here. To ensure compliance, we recommend establishing a clear plan for your team and technology. If you have questions about how to comply with these regulations, seek legal advice and reach out to your technology provider. It's important to actively work to navigate these regulations and achieve compliance in your data management.
How are search firms developing services beyond traditional executive search?
Our clients are beginning to expand upon their service offerings, especially in the area of executive assessment. Many firms bundle the offerings as part of their recruitment process to ensure they find the best possible fit for a senior leadership role. The goal is to help the client enhance their talent selection, aid in the candidate's development post-job acceptance and potentially work with the client when it comes to building a succession plan for the future.
Clarity Executive Search Technology
Finance executives play a unique role in a growth company, and it takes a unique executive search to generate qualified candidates. At Clarity, we use a combination of behavioural science and predictive technology to identify candidates with the right motivations and fit for the role.
Our proprietary predictive technology is used to target, engage and compare candidates. Technology allows us to conduct a thorough executive search so you can feel confident in your hiring decision.
Learn more about executive search today.
__________
Clarity is a recruitment agency specializing in the placement of designated Accountants and Finance professionals in the GTA and Vancouver. Our mission is to improve decision-making in hiring by investing in behavioural science and hiring technology. We specialize in Project & Interim Resourcing, Permanent Search and Executive Search and recruit Finance and Accounting Executives for growth companies. We are a tenured team of successful recruiters who have worked in the major industries across Toronto and Vancouver. info@findingclarity.ca.
Follow us on LinkedIn for updates, job postings and more.