[vc_row row_height_percent="0″ overlay_alpha="50″ gutter_size="3″ column_width_percent="100″ shift_y="0″ z_index="0″ enable_top_divider="default" top_divider="step" shape_top_h_use_pixel="true" shape_top_height_percent="55″ shape_top_color="color-uiui" shape_top_opacity="100″ shape_top_index="0″][vc_column width="1/6″][/vc_column][vc_column width="4/6″][vc_single_image media="43459″ media_width_percent="100″ media_ratio="sixteen-nine" alignment="center" shape="img-round" radius="std"][/vc_column][vc_column width="1/6″][/vc_column][/vc_row][vc_row row_height_percent="0″ override_padding="yes" h_padding="2″ top_padding="1″ bottom_padding="0″ overlay_alpha="50″ gutter_size="3″ column_width_percent="100″ shift_y="0″ z_index="0″ top_divider="step"][vc_column width="1/6″][/vc_column][vc_column column_width_percent="100″ align_horizontal="align_center" gutter_size="3″ override_padding="yes" column_padding="1″ overlay_alpha="50″ shift_x="0″ shift_y="0″ shift_y_down="0″ z_index="0″ medium_width="0″ mobile_width="0″ width="4/6″][uncode_share layout="multiple" bigger="yes"][/vc_column][vc_column width="1/6″][/vc_column][/vc_row][vc_row row_height_percent="0″ overlay_alpha="50″ gutter_size="3″ column_width_percent="100″ shift_y="0″ z_index="0″ top_divider="step"][vc_column width="1/6″][/vc_column][vc_column width="4/6″][vc_column_text]The idea of a routine can be alien to many: it's a documented promise to yourself that you will carry out certain tasks, at certain times throughout the day. Not everyone is built like this, and even as the writer of an article about routine, I could definitely use more experience on this subject matter.
But during the COVID-19 situation, I've learned that a routine is critical for preserving your productivity as well as your sanity (and everything else in between). Having a predetermined structure/schedule/routine helps you navigate your day without losing sight of what you have to do. When at work, you have a set amount of tasks and an industry average of 8-hours to complete them. The same goes for working-from-home: the only difference is geographic.
Building a routine that you can stick to takes effort, perseverance, and experimentation, but it all begins with the most basic of steps: starting.
Create a daily-schedule
Before you start your journey towards becoming an award-winning organizer, it's best to start with a plan: in this case a daily-schedule. This can take the form of a carefully created, color/time blocked excel sheet like I did or something as simple as a notepad with tasks. Creating a daily-schedule is a way of asking yourself "does this matter?". Separating the two allows you to fill in your schedule more effectively, and create time for other activities as well. 
Creating a daily schedule can be as general and granular as possible. As a beginner, having an overly detailed schedule is a sure-fire recipe for failure. But that's okay since failure helps you learn. At this point, you can scale up or down your schedule in terms of complexity. For Clarity, I have what I would consider a medium-level schedule in terms of detail. Here's a sample below: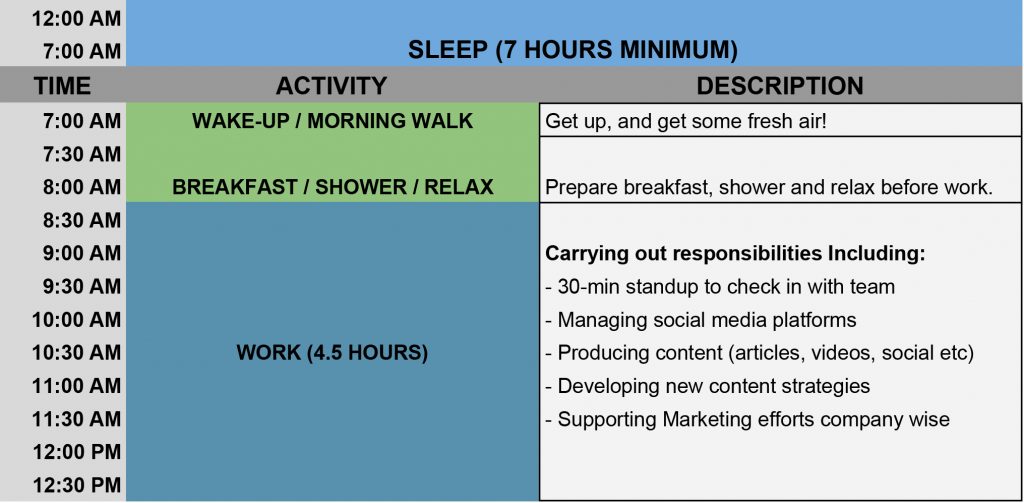 This schedule is a glimpse of my morning leading up to lunch: it's broken down in half-hour intervals with an activity column and a quick description. The colour code allows me to differentiate the subject and gives me a general idea of what I need to do. You could block out time specific to a task ("Write article: 8:30 – 10:30am), as long as it works for you.

Break aforementioned daily-schedule
Now that you have your daily-schedule in place, there's a good chance it's not going to work right away. In fact, I didn't start effectively following the schedule above till about day-8 of using it. Part of this reason is that a habit takes time to form: if you force yourself to adhere to something new with force there's a good chance you will reject it over the long run. 
Like many things, sticking to a schedule when working from home takes time to adapt to. This also is an opportunity to experiment: maybe I don't need to wake up at 7:00, but I can wake up at 7:30 and go for a walk after work or maybe I don't need an hour-long lunch break and instead opt into smaller breaks through the day. When creating a schedule, the possibilities are endless.
Be realistic with goals, and allow a margin of error
Being ambitious is a good thing, but so is being realistic. Expecting to jump right into an intricately detailed routine that allows you to work, achieve your dreams of being an award-winning TEDTalk speaker while juggling family responsibilities and learning an instrument, may not be possible (right away that is). 
Being realistic with your goals allows you to slowly scale up the complexity of your schedule while making sure nothing important slips through the cracks. Even if something does, that's okay because having a schedule that's ever-changing. Creating a margin of error allows you to compensate for slip-ups while allowing you to learn what went wrong and how to course-correct. 
Invest in productivity technology
With so much going on in the world, at work, and at home with your family, taking on everything can feel overwhelming. There are various productivity technologies and techniques that you can adopt to make your life so much easier.
For focusing on my tasks, I use the pro version of Focuskeeper which uses the Pomodoro technique to make sure you're not wasting your time away on TikTok. The basic principle is to have sessions where you laser-focus on a task, with short breaks in between. Currently, I have 25-minute work periods with short 5-minute breaks where I get up, stretch and move around to get the blood flowing before getting back into work-mode. 
Google Calendar is a life-saver: this is the tool I use for scheduling meetings, blocking out important tasks throughout the day which all get sent to my notifications tab on my computer and my Fitbit. 
I also use a Google Home Mini to schedule tasks, set reminders and play music that allows me to focus on my tasks. This handy little device does a lot for you without having to lift a finger (since it's all voice commands). 
The Google G-Suite, Grammarly and Spotify are the three pillars of productivity. G-Suite has a host of user-friendly apps like google drive, sheets etc which can sync with your whole team, Grammarly to make sure your articles are coherent and not the indication of being self-isolated for too long and Spotify which breathes some life and sound into your space making sure you're not working in dead-silence (unless that works for you, experimentation is key after all).
Finally, something that's not really "technology": a notebook where you can keep check of your tasks, write out your objectives and anything else. It keeps you focused and gives you a break from starting at the screen all day. I use mine to create daily task checklists, make quick notes during meetings and even sketch out ideas and strategies when planning out marketing strategies. 
Treat work-from-home, like work
With your schedule, approach and tools in place it's time to set some boundaries with both your family and yourself. Working from home is still working, this means you need to treat the space you're working with as a remote office and not your kitchen table that's right beside the many temptations of the fridge. While geographically they're both the same, approaching your space as a workspace allows you to focus on your tasks and not be stuck in a limbo between home and work. 
Creating these boundaries allows you to respect yourself and your career while giving everyone the heads up that you are in work-mode. Being transparent and having open conversations also allows you to create compromises with your family allows you to balance both aspects of your life. 
Pause, it's time to breathe
Between work, family and your many pursuits it's easy to get lost in the constant grind of getting things done. At this point you have to remember that you are a human being and burning out is a very real thing. There's no logic in going all-in only to burn out and not be able to function when doing anything. Take a pause, deep breaths and allow yourself to relax and revel in the amazing work you're doing.
Self-isolation is not easy, the CDC has created a separate section dedicated to mental health and coping with this situation. This alone should prove to you that maybe taking a day-off from working from home is something you shouldn't feel guilty about. Allowing yourself some time to process, rest and recuperate only sets you for success when you go back to work.
Practice makes perfect (and so does failure)
If there is one take away from this article, it is that this is all a process. You will fail probably more than 2-or-3 times to get a hang of creating a routine while working from home, but it's a step in the right direction. Creating a routine working from home is not just about coping with COVID-19, it's also about becoming more organized, making more strategic decisions and allowing you to discover how much time you really have to achieve what you want. [/vc_column_text][/vc_column][vc_column width="1/6″][/vc_column][/vc_row][vc_row row_height_percent="0″ override_padding="yes" h_padding="2″ top_padding="0″ bottom_padding="1″ overlay_alpha="50″ gutter_size="3″ column_width_percent="100″ shift_y="0″ z_index="0″][vc_column column_width_use_pixel="yes" gutter_size="4″ overlay_alpha="50″ shift_x="0″ shift_y="0″ z_index="0″ medium_width="0″ mobile_width="0″ width="1/6″ column_width_pixel="800″][/vc_column][vc_column width="4/6″][vc_custom_heading heading_semantic="h4″ text_size="h4″ text_weight="600″ text_color="color-757736″]About the Author[/vc_custom_heading][uncode_author_profile avatar_size="80″ avatar_border="yes" avatar_back_color="color-lxmt" author_name_linked="" heading_semantic="h5″ text_size="h4″ text_weight="500″][vc_column_text]Check out more of our popular articles on Career Advice[/vc_column_text][vc_button button_color="accent" radius="btn-circle" hover_fx="full-colored" border_width="0″ display="inline" top_margin="yes" link="url:https%3A%2F%2Ffindingclarity.ca%2Fcategory%2Fcareer-advice%2F|||"]Popular Articles[/vc_button][/vc_column][vc_column width="1/6″][/vc_column][/vc_row][vc_row][vc_column column_width_percent="100″ align_horizontal="align_center" gutter_size="3″ overlay_alpha="50″ shift_x="0″ shift_y="0″ shift_y_down="0″ z_index="0″ medium_width="0″ mobile_width="0″ width="1/1″][uncode_block id="16710″][/vc_column][/vc_row]